Featured Industry Partner: Undersea Warfighting Development Center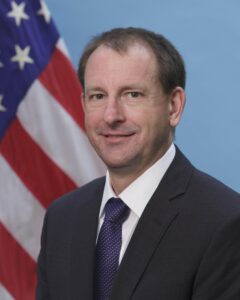 NOVEMBER 30 2021 | Dr. James A. McGee, Office of Naval Research Science Advisor to Undersea Warfighting Development Center, has been involved in the success of the institute since discussions began with Admiral Seif & NIUVT leadership.
"Admiral Seif met with the NIUVT Executive Director, both UCONN and URI Presidents and faculty leadership and visited the campuses soon after taking command.  In my role, I was fortunate to be able to attend those events and connect with the people in the NIUVT organizations.  UWDC really values the relationship we have with our partners in NIUVT."
As the ONR Science Advisor to UWDC, McGee provides connections to the subject matter experts who can provide the fleet perspective on problems the industry and academic partners are working to solve.  He also helps connect researchers and industry into the Navy Research and Development Enterprise.  Within ONR, he is integral in connecting researchers with program officers who are interested in funding their work.
UWDC is a large supporter in the workforce development area of NIUVT. "We are all interested in finding solutions to problems we face in our respective areas.  Often these areas overlap and expand past organizational boundaries.  As an example, on the workforce development front, NIUVT sponsors a fellowship for submarine officers to receive a master's degree through UCONN or URI.  The Navy benefits from the exceptional education the graduate programs at UCONN and URI provide, and the universities benefit from the perspective and talent active-duty officers bring to the classroom and academia."
"In a world of great power competition, it's important for us to work collaboratively.  NIUVT helps with that research collaboration."