NSWC Crane Hosts NIUVT to Conduct Innovation Ecosystem Collaboration
FEBRUARY 25 2020 | Article originally published by Sarah K. Miller, NSWC Crane Corporate Communications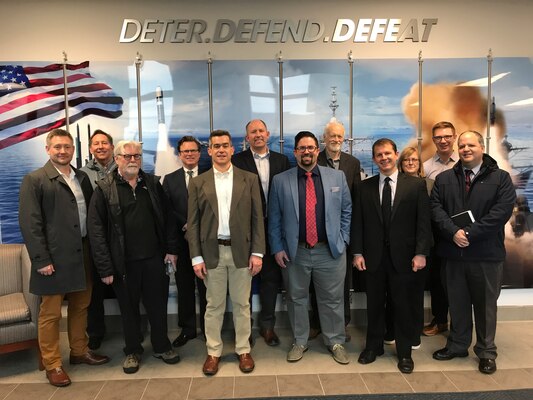 CRANE, Ind. – Naval Surface Warfare Center, Crane Division (NSWC Crane) hosted the National Institute for Undersea Vehicle Technology (NIUVT) to conduct innovation ecosystem collaboration. Several ecosystem partners attended, including representatives from the Office of Navy Research (ONR), other Navy laboratories, NavalX Tech Bridges, research institutes, and multiple academic entities in a three-day collaborative event in February.
NIUVT is a university-industry partnership between the University of Connecticut (UConn), University of Rhode Island (URI), and General Dynamics Electric Boat (EB) to enhance performance and reduce costs of the shipbuilding process while insuring that advanced technologies are implemented into the next generation and next platform of undersea vehicles. NIUVT builds upon the experience and expertise of EB, UConn and URI to engage in research, technology transition, and workforce development. NIUVT does this to develop the personnel and knowledge needed to accelerate critical research and enhance U.S. superiority in submarine and other undersea vehicle technologies.
Erik Brine, the Executive Director for NIUVT and formerly with the White House Office of Management & Budget, says the visit to NSWC Crane was beneficial.
"The NIUVT, UConn, URI, and 401 Tech Bridge team is very grateful to have been hosted by NSWC Crane, IN3, and IU for an amazing opportunity to visit the nationally renowned innovation ecosystem that is growing here in Indiana," says Brine. "Dr. Kyle Werner did a fantastic job introducing us to experts both at the warfare center and across the community. The cross-talk discussions were incredibly valuable and will help dramatically as we build out our undersea technology ecosystem back in New England."
Collaboration took place with several other organizations: the Midwest Tech Bridge, the 401 Tech Bridge in Newport, Rhode Island, the Northwest Tech Bridge in Keyport, Washington, Naval Undersea Warfare Center, Newport Division (NUWC Newport), NUWC Keyport, NSWC Panama City, Indiana University (IU), and Indiana Innovation Institute (IN3).
Under the leadership of James "Hondo" Geurts, Assistant Secretary of the Navy for Research, Development and Acquisition (ASN RD&A), the NavalX Tech Bridges build, enhance, and sustain regional naval innovation ecosystems centered around Navy labs. The six Tech Bridges across the country work to accelerate technology transition to the warfighter through close collaboration with national and regional partners.
Johannes Schonberg, Director of the Northwest Tech Bridge and Director of Engagement at NUWC Keyport, says he was excited to see the ecosystem built over the past decade in Indiana.
"Thank you to Kyle Werner, Monica Hutchins, and Jenna Dix for sharing your roadmap," says Schonberg. "From their strong Tech Transfer network to amazing collaborations with Indiana University, Purdue University, State of Indiana, and many others, they are leveraging open innovation to deliver better solutions faster to Sailors and Marines. They are changing the game through committed leadership, dedicated resource investment, and deliberate collaboration. I am excited to 'rip and off and deploy' their lessons for NW Tech Bridge."
Dr. Kyle Werner, the Director of Engagement at NSWC Crane, says there was great value to bring these entities together.
"We were delighted to host such a diverse group of innovation practitioners from ONR, NavalX Tech Bridges, NIUVT, and sister Naval Laboratories to explore different models for innovation" says Dr. Werner. "At NSWC Crane we are very fortunate to have incredible support for our mission through an expansive network of external partner organizations that contribute to workforce development and attraction, cutting edge defense research, technology transfer, and defense-oriented economic development. We on a journey to expand and grow our Innovation Ecosystem as a means to enhance our mission through accelerating the development and transition of technology to our end users. The collaborative exchange was bidirectional and introduced new innovative approaches that NSWC Crane can leverage as we continue our journey to grow our Innovation Ecosystem."