Featured Undergraduate Student: Max Veilleux, UConn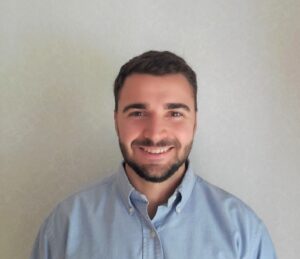 JANUARY 31, 2022 | Max Veilleux is studying Mechanical Engineering with concentrations in Naval Science & Technology as well as Design & Manufacturing at the University of Connecticut. Veilleux is currently an undergraduate student in his senior year at UConn and will be graduating this coming May.
Veilleux learned about the Navy STEM program from his advisor when they told him about the opportunities to participate in during his sophomore year. "I enrolled in the seminar course, now led by Professor Hain, and have loved engaging with the program ever since," said Veilleux. "Having grown up so close to Long Island Sound, I was always interested in the many renown companies and projects that have come to fruition across Southeastern New England and led the way in developing some of the most advanced naval technologies available to defense and other industries. The opportunity to apply the skills I have developed through academics towards an impactful sector with many compelling real-world applications was something I knew I would enjoy."
"I hope to work in naval defense or a similar industry focusing on far-reaching engineering projects in a comprehensive role which encompasses aspects of new concept development, design, and analysis," explained Veilleux. "The Navy STEM program has provided great insights as to what opportunities are currently available for STEM students and new graduates in naval technology industries, what the roles associated with these various opportunities entail, and the trajectory of naval engineering-oriented industries at large."
"I have really enjoyed working with Professor Hain to re-envision how to communicate the program's presence and vast benefits to students just like myself," continued Veilleux. "I always wished I had learned about the program earlier in my college career; with the work we have done, I am able to see a tangible impact in how we are able to spread knowledge of the program to numerous new college students who are intrigued with all it has to offer. With the resources we have and are developing now, it will be possible to give many more interested students exposure to our great Navy STEM program!"
You can learn more about the NIUVT Navy STEM Program at https://navy-stem.uconn.edu/.