Author: RI Delegation Announces $724K EDA Grant for 401 Tech Bridge to Support Economic Recovery
Article originally posted by WUN
U.S. Senators Jack Reed and Sheldon Whitehouse and Congressmen Jim Langevin and David Cicilline announced that 401 Tech Bridge has received $724,674 from the Economic Development Administration's (EDA) Scaling Pandemic Resilience Through Innovation and Technology (SPRINT Challenge).
The SPRINT Challenge was created last year by the CARES Act with the aim of harnessing America's entrepreneurial talents to address the economic and health risks caused by the coronavirus pandemic.
"This pandemic has wrought so much havoc and upheaval, but it has also demonstrated possibilities for changes to the status quo. And it could lead to growth in innovation and new opportunities for startup creation. This federal funding will help provide 401 Tech Bridge and its partners with new startup development resources to launch new ideas, business opportunities, and job growth here in Rhode Island," said Senator Reed.
401 Tech Bridge, a nonprofit economic development organization, launched in 2019 to support Rhode Island's promising textiles, composites, and undersea technology industries by facilitating industry connections, research, and workforce development. 401 Tech Bridge's winning proposal builds on existing collaborations among government, defense, academia, and industry partners to drive economic growth in the Blue Economy sector and accelerate economic recovery from the pandemic.
"We're excited to work with MassChallenge, University of Rhode Island, Rhode Island Marine Trades Association, Rhode Island Textile Innovation Network (RITIN), Polaris MEP, and NIUVT to create opportunities for start-ups and existing companies to develop technology for the blue economy," 401 Tech Bridge said in a LinkedIn announcement.
Author: NSWC Crane Hosts NIUVT to Conduct Innovation Ecosystem Collaboration
Article originally published by Sarah K. Miller, NSWC Crane Corporate Communications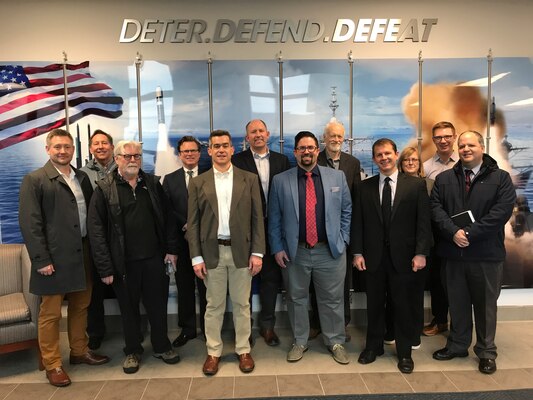 CRANE, Ind. – Naval Surface Warfare Center, Crane Division (NSWC Crane) hosted the National Institute for Undersea Vehicle Technology (NIUVT) to conduct innovation ecosystem collaboration. Several ecosystem partners attended, including representatives from the Office of Navy Research (ONR), other Navy laboratories, NavalX Tech Bridges, research institutes, and multiple academic entities in a three-day collaborative event in February.
NIUVT is a university-industry partnership between the University of Connecticut (UConn), University of Rhode Island (URI), and General Dynamics Electric Boat (EB) to enhance performance and reduce costs of the shipbuilding process while insuring that advanced technologies are implemented into the next generation and next platform of undersea vehicles. NIUVT builds upon the experience and expertise of EB, UConn and URI to engage in research, technology transition, and workforce development. NIUVT does this to develop the personnel and knowledge needed to accelerate critical research and enhance U.S. superiority in submarine and other undersea vehicle technologies.
Erik Brine, the Executive Director for NIUVT and formerly with the White House Office of Management & Budget, says the visit to NSWC Crane was beneficial.
"The NIUVT, UConn, URI, and 401 Tech Bridge team is very grateful to have been hosted by NSWC Crane, IN3, and IU for an amazing opportunity to visit the nationally renowned innovation ecosystem that is growing here in Indiana," says Brine. "Dr. Kyle Werner did a fantastic job introducing us to experts both at the warfare center and across the community. The cross-talk discussions were incredibly valuable and will help dramatically as we build out our undersea technology ecosystem back in New England."
Collaboration took place with several other organizations: the Midwest Tech Bridge, the 401 Tech Bridge in Newport, Rhode Island, the Northwest Tech Bridge in Keyport, Washington, Naval Undersea Warfare Center, Newport Division (NUWC Newport), NUWC Keyport, NSWC Panama City, Indiana University (IU), and Indiana Innovation Institute (IN3).
Under the leadership of James "Hondo" Geurts, Assistant Secretary of the Navy for Research, Development and Acquisition (ASN RD&A), the NavalX Tech Bridges build, enhance, and sustain regional naval innovation ecosystems centered around Navy labs. The six Tech Bridges across the country work to accelerate technology transition to the warfighter through close collaboration with national and regional partners.
Johannes Schonberg, Director of the Northwest Tech Bridge and Director of Engagement at NUWC Keyport, says he was excited to see the ecosystem built over the past decade in Indiana.
"Thank you to Kyle Werner, Monica Hutchins, and Jenna Dix for sharing your roadmap," says Schonberg. "From their strong Tech Transfer network to amazing collaborations with Indiana University, Purdue University, State of Indiana, and many others, they are leveraging open innovation to deliver better solutions faster to Sailors and Marines. They are changing the game through committed leadership, dedicated resource investment, and deliberate collaboration. I am excited to 'rip and off and deploy' their lessons for NW Tech Bridge."
Dr. Kyle Werner, the Director of Engagement at NSWC Crane, says there was great value to bring these entities together.
"We were delighted to host such a diverse group of innovation practitioners from ONR, NavalX Tech Bridges, NIUVT, and sister Naval Laboratories to explore different models for innovation" says Dr. Werner. "At NSWC Crane we are very fortunate to have incredible support for our mission through an expansive network of external partner organizations that contribute to workforce development and attraction, cutting edge defense research, technology transfer, and defense-oriented economic development. We on a journey to expand and grow our Innovation Ecosystem as a means to enhance our mission through accelerating the development and transition of technology to our end users. The collaborative exchange was bidirectional and introduced new innovative approaches that NSWC Crane can leverage as we continue our journey to grow our Innovation Ecosystem."
Author: Erik Brine Makes Waves at National Institute for Undersea Vehicle Technology
Article originally published in UConn Today by Jessica McBride, Office of the Vice President for Research.
As an Air Force pilot for over two decades, Erik Brine has served his country from thousands of feet in the air. Now Brine is focused on research and development activities to safeguard our national defense from the depths of the ocean floor.
In September 2019, Brine became the Executive Director of the National Institute for Undersea Vehicle Technology (NIUVT). NIUVT is a collaborative effort between academia, industry, and government founded by partners General Dynamics Electric Boat and the schools of engineering at the University of Connecticut (UConn), and the University of Rhode Island (URI).
NIUVT's mission is to enhance performance and reduce costs associated with advanced technology integration in the undersea domain. These activities include conducting advanced research, facilitating workforce development, and accelerating technology to meet the needs of industry in the defense sector. The institute's regional academic and industry horsepower are further strengthened by the expertise and close relationships with Naval Undersea Warfare Center (NUWC) and the Undersea Warfighting Development Center, which are pillars of the Navy's undersea community.
In 2018, the Navy announced plans to purchase 301 new ships by 2048, including an increase in submarines from 48 to 66. This significant ramp-up in submarine production could place strain on the 600 small and medium companies that are suppliers to the submarine industry. NIUVT aims to help alleviate that stress and allow for greater innovation, performance, and cost savings.
"UConn and URI have a strong record of supporting the naval community in Connecticut and Rhode Island through workforce development and collaborative research. NIUVT will bring this to the next level and we are very pleased that Erik has joined our team to help lead this growth and development," says Dean Kazem Kazerounian, UConn School of Engineering.
Before joining NIUVT, Brine served as an expert on defense, technology, and veterans issues in both the legislative and executive branches. He spent time at the State Department supporting the bureaus of Political Military Affairs, International Security and Nonproliferation, Arms Control Verification and Compliance, Counter-terrorism, Conflict Stability Operations, and Intelligence and Research. He worked in the Pentagon in the Office of the Secretary of Defense and was an advisor to Senator Tim Kaine on defense and veterans issues. Most notably, he served at the White House as a budget and policy advisor overseeing $93 billion of Department of Defense Research and Development investments and industrial policy issues. Brine remains a colonel in the Air Force Reserve and co-founder/president of a non-profit called Operation Encore that supports singer-songwriters and musicians from veteran and military communities.
Through these experiences, Brine says he recognized the need for better partnership and resource sharing between academia, industry, and government to compete for international defense dominance. A major priority for NIUVT will be to foster an active ecosystem, leverage state-of-the-art facilities at UConn and URI, and connect the right people to improve national defense and the economy, he says.
"Along with space, the undersea domain is really one of the final frontiers of exploration for military and commercial utility. That's one of the things that got me excited about the opportunity to lead NIUVT," says Brine. "NIUVT will play a critical role in allowing the U.S. to compete on an international scale by leveraging coordinated investments in research, workforce, and technology to address major challenges in this dual-use environment."
NIUVT is located throughout the Northeast's "blue tech corridor" at UConn's Innovation Partnership Building at UConn Tech Park, UConn's Avery Point campus, URI's Narragansett Bay Campus, and in URI's new engineering building. NIUVT was established in 2017 to develop the personnel and knowledge to accelerate critical research and enhance U.S. dominance in submarine and other undersea technologies.
"As a main supplier of workforce to Division Newport, we need to continue our work with the URI College of Engineering, as well as other regional universities like UConn to help us build the workforce we need into the next century," says NUWC Chief Technology Officer Vic Ricci. "NIUVT is set up to foster collaboration in cross-disciplinary teams, not limited to engineering, that will truly bring engineering education to a new standard that will drive innovation."
"The collaborative research and workforce development initiatives that have resulted from our partnership with UConn and the Navy have been a great benefit to our students at URI," says Dean Raymond Wright, URI College of Engineering. "Erik's 20-plus years of experience in national security and military leadership will help strengthen those partnerships and create more opportunities for our students and faculty going forward."
NIUVT will grow considerably in 2020, with the addition of about 50 total faculty and students. To date, the institute has received $10.5 million in federal funding. NIUVT will also have the opportunity to compete for another $10 million made available by the 2020 National Defense Authorization Act that was passed by Congress recently.